A sermon given at Colonial Church on December 13, 2020. You can listen to the sermon below or you can watch the Alternative or Traditional service on YouTube. You can also watch the Kids' Sermon HERE.
Just then a lawyer stood up to test Jesus. "Teacher," he said, "what must I do to inherit eternal life?" He said to him, "What is written in the law. What do you read there?"

He answered, "You shall love the Lord your God with all your heart and with all your soul and with all your strength and with all your mind and your neighbor as yourself." And he said to him, "You have given the right answer. Do this and you will live."
Luke 10:25-28
---
As we continue in worship, will you pray with me?
God of all love, on this morning (or whenever we're watching), we come as a people looking for the light. People in need of the light. People longing that it would still come. And so come, oh come Emmanuel and ransom captive Israel. For we are all a people in need of your love. Be with us, oh Christ.
Amen.
---
Having grown up in the western metro of the Twin Cities, I had heard about this church since I was a kid. One of the things that I knew about all of you (and now me too), is that you were a people who wrestled. A people who brought your hearts and minds and whole lives to the living and embodiment of your faith. Not a people who were all of one thought, not a people who agreed about everything, a people who gathered not because of creed, but because of a belief in the transformative power of Jesus Christ.

And you sought to be a people who lived that law of love in your personal lives, in Edina, in the Twin Cities, and in the world. Now, much of that I respected…but truthfully, some of it made me a little nervous. You see, I grew up in a tradition inside of Christianity that taught me that there was one way to understand things…and to think that you could have a bunch of people who came together to worship Jesus and they might think different things. I mean, goodness sakes (and now I sound like my grandma!)!!

But this has always been true of our community: we wrestle together as we gather. We bring our whole lives, our hearts, our minds, and ourselves to discern together the ways that God's law of love invites us.
That's been a marker of this community.
And it's why as I come to the sermon today to talk about the third candle that we light during advent, which is love, that I want to invite us to reconsider love's invitation, not as a binary, but as a wholistic call to live the way of love and the gospel of peace, of shalom.

This shalom is meant for our inner well-beings, for our personal relationships, but also a shalom that seeks to order and reorder the entirety of all human civilization. And that is where we gather this time during advent, looking for and awaiting the arrival, the coming of Emmanuel God with us, who brings in his coming a kingdom, not of this world, but one that is rooted in the God of all love and all life. So let's look for the light together.

One of the aspects of the tradition inside of Christianity that I think this community has embodied is that sense of holding together tensions. We say that. It's one of our core values. "Wrestle with the tensions." Now I know that sometimes some of us want to be like, "Tap out. Can I take a break?" That's totally fine. You can always do that.

But then we come back and we re-encounter one another and the God who wrestles with us.
In the earliest 20th century, 21st century actually, Reinhold Niebuhr, Christian ethicist and theologian of whom I have spoken before, was writing to a world that was divided in some similar ways to ours. There was a lot of tension inside of the church, inside of culture, about who were we going to be? What did it mean to be a faithful people?

There was a revolution happening in ways of understanding. Science and Darwinism had risen to the fore as a way of considering and understanding the ordering of the world and the universe. And there was a divide deep within the Christian church in the United States particularly. It was a controversy where some went one direction and some went the other…and into this fray moved Reinhold Niebuhr, wanting to invite the church to not just split, but to re-remember their calling to be a people who followed YHWH God, a people who seek to embody "the perfectionist ethic of love" (to quote him, not myself). And so, as we gather to look for and await that coming of Christ, we gather as a people seeking that kingdom and that love. So no matter what you hear today, if you notice any discomfort in what I'm inviting us into, I would invite you to consider how is our formation, which 98% of it happens outside of church, how is this shaping how you hear me and how you hear the Gospel's invitation. I say this because it's especially important in our time that we wrestle with and reflect upon how what we hear and how we hear each other shaped by the culture and time in which we live. Not to jettison it, but to be aware of it so we can revisit God's story and God's invitation again and challenge each other to wrestle so that we might more fully embrace and follow the call to be a people who follow Jesus.
Reinhold Niebuhr's invitation was that in a world where on one hand, some members of the church had chosen an ethic of love, which became very personal, very privatized and that salvation was only for me. And another portion of the church that said the only way to live the gospel is through justice, that he wanted to bring those things together. Not just because Reinhold Niebuhr had a few thoughts about unity, but because Reinhold Niebuhr believed that that the call of the gospel lived in the tension. He believed that the law of love to which the gospel spoke was something that held together love and justice. That love was always an inward transformation, which invites us to live outwardly and that the outward life shapes us inwardly.

For our faith is not just something that happens this direction (between God and us), but happens this direction (between us) and inside of us as well. And so today, as we consider that the law is love, I want to invite us again to come to that candlelight and to seek out a love that invites all of us, the whole of us. For indeed, this is good news for our whole world.
In the passage that Bruce read for us this morning from Luke chapter 10, a lawyer trying to test Jesus. He is trying to paint him in a corner a little bit and be like, "Okay." Because if Jesus gets this wrong, we all can be like, "Next. Write off that guy. He's a heretic." What if he says the wrong thing? And when tested to say, "What must I do to inherit eternal life?"
Jesus, of course, puts the question back to him, which is such a great tactic that I wish I employed more. Jesus says back to him, "What is written in the law? What do you read there?" And the lawyer answered and says, "You shall love the Lord your God with all your heart, all your soul, with all your strength and with all your mind and love your neighbor as yourself." And Jesus replies to him, "You've given the right answer. Do this and you will live."

Some of you have heard how my spouse, who went to seminary when he turned in his final paper, he put a post-it note on the very front of his paper in which he had to defend his statement of faith. And he said, "Listen, it all can be summarized in this. Love the Lord your God with all your heart, soul, mind, and strength and love your neighbor as yourself." Of course in so many ways, he was right.

That most fundamentally, the call that we have as a Christian people is to be a people of love. That's it. God is love. They will know we're Christians by we're love. Jesus says here, and it's repeated again in two other gospels that all of the law and the prophets is summarized and summed up in this. Love the Lord your God, with all that you are and love your neighbor as yourself.

Of course other things are important, but that's the thing. That's it actually. The call of Christian love and the embodiment of Emmanuel God with us is the reminder that the only law and the beginning and end of all things is love. Of course, living this out, figuring out what it means and actually doing the work of love is a lifetime of learning and unlearning of trial and error, of mistakes and possibilities.
But this is where today I want to bring us is deeper into this invitation. And the way that the law of love has always been multi-directional. It's a call that invites us to live out a way of being in communion with the God of the universe, that then changes and transforms us from the inside out that we live in that love and from that overflow, we live love with one another.
Love of course, is both a profound moving space for us in our personal relationships. To live love can be a beautiful thing. It's also one of the most vulnerable things that we can ever do. It asks us to risk, to show up, to admit when we're wrong and to be open to the possibility of it. But in this call to love our neighbors and in the biblical witness that we read throughout scripture, the call of love is not a call of sentimentality.
The call here in the New Testament to agape love isn't a theory. It's love with skin on. This is part of the profound message of the Christian heritage of good news is that God is not far off or removed, but God has taken on human skin and knows what it is to be amongst us, knows suffering and pain and longing, knows risk and vulnerability, knows what it is to not be loved. To love is something that asks us likewise to put skin on and to live.To live love. And to live love for our neighbors isn't something, again that's sentimental or abstract. It's something that takes into account the particularity of their circumstance and the moment in which we live. This is where we see the connection between agape love and what Jesus is referencing here in the gospel writers in talking about these texts that would have been central and important for the Hebrew people.
Here in the greatest commandment, two different texts are referenced. One is from Leviticus, from Leviticus 19, the call to love your neighbor as yourself. This appears in Leviticus in a section related to the way that justice and the ordering of communal life happened and transpired. And the second is the Shema, referenced first in Deuteronomy 6, the call to love your God who is one.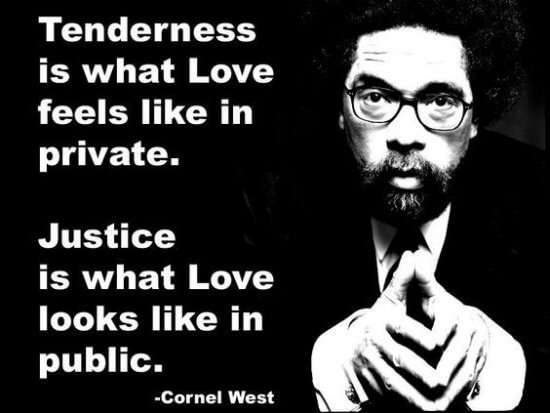 This call of a love that goes this direction (between us and God) and this direction (between us) and within us is one that I would argue expresses itself as both love and justice for another biblical way for understanding living love is the living the call of justice. To quote brother Cornell West, "Justice is what love looks like in public." This connection—of love and justice as being opposite sides of the same coin—is what we proclaim each year at Christmas through the Christmas carols we sing: that the embodiment of love brings peace and justice for all.
We sing about how on these silent nights and holy nights, we look for peace, peace in the biblical sense. Going way back to the earliest texts of our faith is a vision of shalom (peace). This is vision of rightness, both within us, but also discovered in the right ordering of community. And we see that this vision persists throughout the Hebrew Bible. One of my favorite passages and sections is from Isaiah, which we return to during Christmas, for Jesus himself identifies as the suffering servant from Isaiah.
The book of Isaiah itself opens with a challenge and an invitation to God's people who they have forgotten the ways of God, calling them to walk in the ways of God, inviting them to learn anew. The prophet calls them cleanse themselves, to get injustice out of God's sights, to cease to do evil and learn to do good, to search for justice and help the oppressed. To protect the orphan and plead the case of those who are widowed.
YHWH demands that the people choose the pathway, and should they choose as he commands, he notes that though your sins are like scarlet, they can be as white as snow. And though they are red as crimson, they can be like white like fleece. The Hebrew word here for the seeking of justice is mishpat.
Mishpat is way of understanding justice as the doing of justice, of according to people the rights they are due as God's people, as children made in God's image. Throughout the book of Isaiah, two conceptions of justice are wedded together: mishpat and tzedek. While mishpat is a sense of a justice that is the rightness of life together and also the sense that each is due certain rights or obligations as part of the community. This is then put together with tzedek, a conception of justice, which is sometimes thought of as the plumb line. It's the through line, the way that we are rendered just, justified, sometimes translated into English as "being rendered righteous.
It's another way of understanding this dual conception that if love looks like both the relationship between us within ourselves and a relationship to God, that love and justice are also opposite sides of the same coin. The ways that we who know what love looks like we work for that with our neighbors. This is then a justice that is both us justified in our relationship to God (tzedek), but that calls us to live a justice (mishpat) in the way that we live and order our lives one with another.
Christian ethicist, Nicholas Wolterstorff, notes that what's happened is that in the Christian tradition is that we've thought that wrath and justice is the domain Old Testament, the Hebrew God, who's angry and wrathful. And so we think of love in the New Testament as divorced from that. And yet, if we look at the witness of Jesus, the way he inaugurates his mission here on earth and what is said of him and what he is referencing, he's talking about this God who is the same throughout all of the witness of God, journeying with God's people. This means that love and justice are held together through out the Bible and that we can't understand one without the other.
In this way, love is something that is both personal, but it's also that invitation to how we live and how we show up. Love and justice go together. Love towards God and love for neighbor go together. This is the kind of love we long for! And this is the tension we seek to hold that as God's people looking for the light that still comes, the savior God, Emmanuel God with us, we want to be a people who hold together these tensions, where we think of love as the profound encounter and experience of knowing ourselves, beheld in the gaze of Jesus, Emmanuel God with us. And that that love changes and transforms us, for as we are seen, we then extend that sight and recognition so that we work to ensure that for all of our neighbors that that same experience of a love that honors them is possible, which is justice.
How many of you know that I'm a little obsessed with my spouse, Andy Garbers? One of the reasons I say that I married him is because he always saw me. He always heard me. And in a world and in a community where I grew up that women didn't matter as much as men, to have a man see me meant so much. And I knew it was love.
He's always seen me and not been threatened. And that's what I mean when I'm talking about this candle of love. It's the light of love that warms our hearts so that we remember that we don't have to live according to the laws of this world. No, we live according to the law of the gospel of Jesus Christ. And that love is one thing. It is a love that is embodied between us and realized as the doing of justice.
The law is love. That is why, as I shared in the children's sermon, my favorite Christmas carol is "O Holy Night," for it names what the light of love brings to us and our world. In high school every year my choir director, Chad Junker, who some of you know, had us all sing that song and together, we would perform the lyrics in sign language.
Together we would sing and sign:
"God's law is love and his gospel is peace.

Chains shall God break for the slave is our brother, (is one of us).

And in God's name, all oppression shall cease."
Therefore, sweet hymns of joy and grateful chorus raise we. Let all within us, praise God's holy name. For Christ is our Lord.
Amen.