A sermon given at Colonial Church on July 28, 2019.
Do not let your hearts be troubled. Believe in God. Believe also in me, in my father's house, there are many dwelling places. If it were not so, would I have told you that I go to prepare a place for you? And if I go and prepare a place for you, I will come again and will take you to myself so that where I am, there you may be also.
"And you know the way to the place where I am going?"
Thomas said to him, "Lord, we do not know where you are going. How can we know the way?"
Jesus said to him, "I am the way and the truth and the life, no one comes to the Father, except through me. If you know me, you will know my Father also. From now on, you do know Him and have seen Him."
– John 14:1-7
---
Good morning. Will you pray with me?

God of all wild and precious life, God who has fashioned grasshoppers and each of us, give us the strength and the love to walk in the way as we all indeed do walk each other home.
Amen.
---
So as I was working on this sermon, I was trying to figure out how to fit an analogy from the recent Twins' sad series against the New York Yankees that I could work into the sermon…
I tried really hard because I was at the game on Tuesday night and my dad was visiting. Now, I try to be a good Christian in most areas of my life. I'm like, "God loves everyone and made everyone…" but when it comes to the Twins versus the Yankees, I read passages like one from John, where it notes that there are many rooms in God's house, and I think, "Maybe the Yankees get a different part of the house though, right?" My apologies…this is why we all have to come to church because God has to work on me, too, right?!
Well, I'm glad to be with you this morning! A couple of weeks ago, I was up north at the cabin, working on my dissertation, and Jeff sent me a note to make sure I was actually working on my dissertation and not just riding the pontoon, which of course I was doing some of both, but I wanted to share a bit about my dissertation with you this morning.
I wanted to do so because while I was up north and working on the dissertation, I was also writing this sermon at the same time, thinking about, and being grateful for this opportunity to re-articulate for myself what it means when Jesus says, "I am the way, the truth, and the life." I'm grateful for the opportunity this afforded me to think, to pause and to ask, "Where am I at right now? What do I believe about this?"
And so today as I share with you what my "right now" is, I want to invite each of us to consider these questions: Where are you at right now? How would you answer what it means when Jesus says, "I am the way, the truth, and the life?"
Before I answer that for myself, let me tell you a little bit about how I grew up thinking about this passage. There are three major ways that I've historically heard folks talk about Jesus saying, "I am the way, the truth, and the life." One of them is that it is central to an affirmation of the way of faith where one is "born again." You believe in Jesus, you confess that, and then you're in, right? You're a Christian. I'm not saying this is untrue, just that as I heard it while growing up I learned that this passage was one of the central affirmations of Jesus being the way and that one should follow it.
A second way I remember hearing this passage talked about was that it was biblical proof that Christianity was the only way. Thus, when I was in junior high, I told my friend that if you didn't believe in Jesus then you were going to go to hell…and this passage proved it.
A third way I learned to make sense of this passage was that I internalized that if Jesus was the way, the truth, and the life, that there was one way that must be the right way in all things. I thought that if I could just figure out what exactly the way, the truth, and the life was, then I could get it all down and with clenched fists be like, "I got it!" I would be the right kind of Christian. No, there's some of you who are like "Sara, I've never thought of any of those three things." Well, now you know what was going on inside of my brain and it will help you to clarify what's been going on inside of your brain and heart as you come to this passage.
Today, I want to suggest another way to think about this passage, connected with our sermon series on the "I AM" statements of Jesus recorded in the book of John. And I want to do this in conversation with my dissertation.
My dissertation's working title is Dangerous Memories: Sexual Violence and Trauma Towards a Feminist, Political, Theological Ethics of Memory. My dissertation picks up a tradition inside of Christian theology that was birthed in the ashes of the Shoah, the Holocaust, s Christians were wrestling with what it means to dare to say the name of Jesus in view of the suffering and the violence in our world. They sought to re-articulate a Christian faith in view of the way that Christianity was complicit in the rise of National Socialism, they wrestled with what it means to be a people who say, "We are Christians," in their time. Additionally, many theologians were wrestling with the rise of secularization in, to use Dietrich Bonhoeffer's language, "a world that has come of age."[1] They were struggling with what it meant to be church, to gather, and to even bother doing the life of faith together.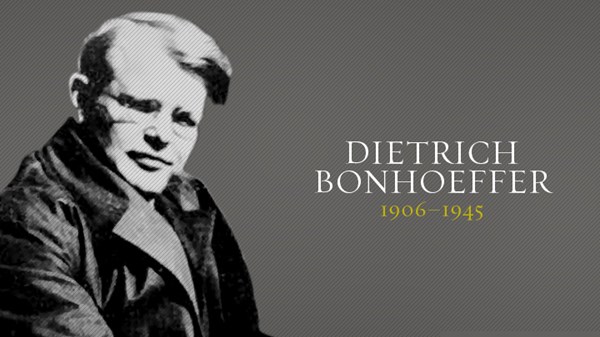 Some of those questions, while not the exact same ones as for us today, are ones that I think we are wrestling with as a country and as a people. We've heard again, the rise of the nones and just last week on public radio, I heard a pastor interviewed saying that the reason people don't go to church is because they don't believe, or they've lost their moral fabric. For me, that answer isn't sufficient. I'm less interested in those sorts of explanations which blame people who aren't sitting in church and more interested in asking, who are we called to be? The church has persevered throughout thousands of years and we say that we are invited to be a people of the way. So what does it mean to do and to say that we are people who follow The Way?[2]
Dietrich Bonhoeffer has been one of my favorite conversation partners on this question for many years. He talks about the ways in which Christianity in his time was operating. He writes that some of the ways Christians have articulated what it means to follow Jesus have been so often just been about ourselves and so few of the questions we are asking or answering actually speak to our world. He writes:
What reconciliation and redemption mean, rebirth and Holy Spirit, love for one's enemies, cross and resurrection, what it means to live in Christ and follow Christ, all that is so difficult and remote that we hardly dare speak of it anymore. In these words and actions handed down to us, we sense something totally new and revolutionary, but we cannot yet grasp it and express it. This is our own fault. Our church has been fighting during these years only for its self-preservation, as if that were an end in itself. It has become incapable of bringing the word of reconciliation and redemption to humankind and to the world. So the words we used before must lose their power, be silenced, and we can be Christians today only in two ways, through prayer and in doing justice among human beings. All Christian thinking, talking, and organizing must be born anew, out of that prayer and action.[3]
I know it might sound outrageous to say that, but it isn't it, after all, fundamentally biblical to indeed argue that it's not just about the question of saving our souls? Isn't this fundamentally biblical? Isn't it true in the old Testament that God's righteousness and kingdom is at the center of everything?
So he wrestles with what it means if we would actually put God's kingdom at the center of everything in our lives and orient ourselves in that sort of way. He challenges us, as the church, even today, that the way to be church in "a world that has come of age" is to be the type of people who are for others, who live into and embrace a faith that challenges us not to be some sort of strong actors who live as if we have all the answers, but to be a people who humbly follow the Jesus who was crucified on a cross.
And yet often, this is actually really hard. It's like losing to the Yankees all the time. How are we to be a church in this world? What does redemption and reconciliation mean? What does the cross and the Holy spirit mean for the way we actually live our lives? Does any of this speak anything to who we are as people in our families, on our streets, in our world? What does it mean to claim to be a people who follow the word made flesh? That's what I want to talk about today.
When Jesus says, "I am the way, the truth, and the life," I wonder what happens as we move away from ways of living out our faith that claim, "Oh, now I have the answers." Or: "It's sure that I alone have it right." Or: "If only I could figure out exactly what the way was, if I could get it right and live perfectly."
What if instead, we move more deeply into becoming a people of the way. Let me say more about this….
What I'm trying to say is that I can read all of the books I want about how to have a good marriage, right? Anyone ever read one? I've read a few of them, but if I don't actually turn towards my spouse and take the risk of relationship, if I'm unwilling to be vulnerable, to admit where I'm wrong, and to let my relationship change and transform and disrupt me, then I'm not really engaging in anything that's going to make our relationship better. I'm just reading books and it's pointless.
Faith, in its own way, is like this. It's an invitation into the way. It's an invitation into life. It's an invitation to live truth, to have it invite and disrupt and heal and change us. That's what Jesus invites us to: a house that is a home for each of us and indeed, all of our siblings throughout the world. The way, the truth, and the life is just that: a way to actually live and we make this way, we know this truth by living it.
One of the other writers that I've been engaging with more recently in my dissertation is a woman named Dorothee Sölle. Dorothee Sölle was a Lutheran theologian and mystic. Part of what I love about her work tells you something about why I came to this church, for it is a place where head and heart, were living out an active faith, wrestling with hard questions is all a part of who we are.
Sölle talks about how sometimes when we affirm faith as Christians, we relate to God from a position of obedience. The Bible becomes our rule book. God is the Sovereign who tells us all things. And if only we ca discern the rules then we can be right and righteous. Sölle counters this relationship of obedience and challenges us that what we hear in the gospels is not that we are servants or subservient, but we are called to be part of the family, to be children who grow up into adulthood.[4]
Being a child of God is a radically different thing than being servants who life our lives saying, "Yes, God. Whatever, God. Sure, God." Obedience fosters a very different relationship than a grownup faith we are actually invited into. Now, sometimes being a grown up is really hard, right? Because when I was a kid, I thought being a grownup was going to be amazing. You got to do whatever you want…you could go to bed whenever you want, and you didn't have anyone telling you anything, right?
Well, I'm a grownup now and as it turns out, I actually don't have as much money as I thought grownups have. And a lot of people tell me what to do. And sometimes being a good grownup is really hard, and sometimes, I want to throw a temper tantrum and not have to take responsibility for my life. Can I get an amen?
I'm going to take your laughs as a sign that at least one or two of you also struggle with being a grownup. The rest of you are not laughing must be better people than the rest of us who relish at Twins' victories over the Yankees.
This is part of the power and the beauty of the gospel, "I am the way, the truth, and the life": it invites us to become grown up, to become children who are actually heirs of this promise, ones who take our rightful place in the house, people who live the promise with our lives. And we do this not because we're going to get in trouble, but because love has seen and transformed us, it's raised us, and now it's the way we live and move and have our very being.
In her writings, Dorothee Sölle talks about the idea of the Shekinah glory and we have to talk about this. You see, I don't know if you recall or have been around as we've been talking about the "I AM" statements in the book of John over the summer, but in this series we've outlined how these "I AM" statement connect back to the Old Testament, the Hebrew Scriptures, in affirmation of Jesus as God, as the "I AM."[5]
Well, in the Hebrew Scriptures, Shekinah Glory was the space of God's indwelling; God's presence in the world. So to say, as Christ does, "I'm the way, the truth, and the life," points to and exemplifies the most profound indwelling of God in our world. The Shekinah Glory of The Great I AM. In Christ, the God of all life has come, and invites us into life, into this way of being.
In the Hebrew Scriptures there's a sense of when the Shekinah Glory shows up, there's fear attendant to its appearance. Well, of course there's fear! Any time that kind of light shows up and makes clear the places where we're vulnerable, the places where we're broken, and the places where we need healing, it's terrifying! But this is indeed the terror that we are called to face to become grown up in view of Christ. To become a people of the way, the truth and the life ourselves is to, as Emilie M. Townes writes:
To be called beloved

is to answer the question

we are not dipped

we are not sprinkled

we are not immersed

we are washed in the grace of God.[6]
We are invited to the dance, à la Richard Rohr, one where we move with the Spirit in the way of love, in the way of truth.[7]
Meister Eckhart, an old school mystic, one said: "God, rid me of God."[8] And what he meant by that was: may God remove from us anything that actually keeps us locked in from actually moving into God, towards God, and into the way, the truth, and the life. This is that invitation where we hear throughout scripture: that it is for freedom that we have been set free! This is the place where we know the way because we've been walking it. We know the truth because it has found us. We know life because it is actually ours.
Faith is the invitation into life. It is an invitation to be grown. And yet oftentimes, as we've grown up, many of us have thought that being grown up means being safe, means being never vulnerable, means we have all of the right answers, and we puff up our egos to keep us safe and lose the innocence and possibility that we knew when we were children. But I think the beauty of faith is actually that it's a both/and. It's an invitation to remember the vulnerability of our humanity, to remember the joy of the kid who jumped in puddles, who wasn't afraid to proclaim things loudly and be a grasshopper in church, AND to also be one who also knows what it means to wrestle thoughtfully and intentionally with the invitations of faith in order to live as a responsible grownup.[9]
When I was a junior high youth associate at my church while I was in college, I was at a camp with some of our youth where many of them came to experience God's love for themselves for the first time. That week was amazing as I watched them come alive. Have you ever seen that happen, when someone has come alive because they knew that they're loved by God? One afternoon I wrote a song at camp for them because I didn't want them or us to forget those moments. The lyrics went, "Let's not grow old. Let's not grow wiser to the world. Let's not forget that God's brought us this far. 'Cuz we aren't strong enough or wise enough to make it." And then I said, "So what?"
This is the invitation into the way, the truth, and the life. In a way, it's a childlike faith because it remembers the joy and the vulnerability of what it means to just be who God has made you to be. But it's also a grown-up faith that knows the pain, but continues to show up, not because we have all the answers, but because we know that being a good grown-up demands we wrestle with the questions and in so doing we find God more deeply and truly in the midst of them. We make this way by walking in it. We turn towards and orient our lives into the Great I AM. The I AM who holds and sustains and calls and loves each of us. And then we walk the way and little bit by little bit, we realize it is the truth, and we know that we have life. We take hands, we walk with one another more deeply into that heart of love of this God, as we know the way, the truth, and the life for ourselves.
There're a couple of reasons why I think this way of understanding John's gospel matters and I want to share this with you and let you know what it's meant for my life. While I was growing up and didn't think that I could just let go and move into the rhythm of God's love, I tried to control everything, to get all the right answers and to prove I knew them all in order to keep myself safe. Living a faith like this and relating to God as an authoritarian figure, impacts how we live with one another. It impacts the way that we show up, the way we're willing to let the stories of the world around us disrupt us… or not. I know this was and has been true of my life. It has meant that I was a lot more anxious, much more rigid, and much more judgmental of myself and others.
And over time as I have discovered a faith that is not about obedience or control, but about surrender to the way, the truth, and the life. I have found anew a faith that has made me freer to truly love God and to love my neighbor as myself. I know, and am know fully every day, a faith that is life and breath. I am a not a servant but a beloved child who is becoming more grown-up inside of a way of life that seeks to live responsibly in the face of the call of love.
So my question to you and to us this morning is, "What does 'I am the way, the truth, and the life' mean to you?" What do you think Jesus means in saying that? Where are you are afraid that if you got out of the boat, into the water of God's love that maybe you'd drown or look foolish? Where might there be fear that's keeping you from moving more deeply into the way, the truth, and the life that is God?
And the third question I have is, "What would it look like if even this week you were to take a vulnerable step more deeply into the way, into that vulnerable faith space where you release ego, and both remember your childhood joy and allow space for the questions and wonders and fears that adulthood brings?
This way we can walk with the world and with one another in solidarity, cheering each other on as we each see to walk more deeply in that love. Not from places of judgment because we have it figured out, but from places of invitation where we say, "Hey, look at that risk you just took. That's awesome!" :Look at that way that you just choose love over self-protection. How cool!" The way, the truth, and the life is that which we then affirm and celebrate with one another. This is the place where, as the old Audio Adrenaline song reminds us, "It's big, big house with lots and lots of rooms, a big, big yard where we can play football."[10]
A house where even this Twins fan can play baseball with the Yankees, right?
That's the way, the truth, and the life. It's a home for each of us, where all of us get to reside in a glorious presence of the God of love. So to that God who has created the precious life of each of us, the God who is immeasurably more than all we could ask or imagine, may this God fill our hearts and minds. May God's Spirit breathe where we feel weak or vulnerable or afraid and give us strength and courage to move into the way, to join God in the dance of God's goodness and kingdom here on earth, and may we be people who are identified as people who live the way.
Let us join hands with one another and walk with one another more deeply into this great I AM as we pray together. O great I AM, be our way. Lead us in truth and bring us into the fullness of your life everlasting. We surrender ourselves to your great love, oh one who is and was, and is to come. God rid us of all gods but by thyself, for your sake, for ours, and for our neighbors. Come, O great I AM. Amen.
---
[1] Dietrich Bonhoeffer, Letters and Papers from Prison (Minneapolis: Fortress Press, 2010), 482.
[2] For more see: https://www.pewforum.org/2019/10/17/in-u-s-decline-of-christianity-continues-at-rapid-pace/?utm_source=link_newsv9&utm_campaign=item_267920&utm_medium=copy
[3] Bonhoeffer, 389.
[4] As she writes: "Mysticism may be regarded as the anti-authoritarian religion per se. In it, the commanding Lord becomes the beloved; what is to come later becomes the now; and naked or even enlightened self-interest that is oriented by reward and punishment becomes mystical freedom." From Dorothee Sölle, The Silent Cry: Mysticism and Resistance (Minneapolis, Fortress Press, 2001), 36.
[5] Sölle, 115.
[6] Emilie M. Townes, "To Be Called Beloved," in Womanist Theological Ethics: A Reader, ed. Katie Geneva Cannon, Emilie M. Townes, and Angela D. Sims, 183-202 (Louisville, KY: Westminister John Knox, 2011), 183-4.
[7] Richard Rohr with Michael Morrell, The Divine Dance: The Trinity and Your Transformation (New Kensington, PA: Whitaker House, 2016).
[8] Quoted in Sölle, 68.
[9] As Sollee wrote, "the more you grow into love, into the message of Jesus –… The more vulnerable you make yourself. When you spread your life around rather than hoarding it, then the great light becomes visible within you… To choose life means to embrace the cross. A means to put up with the cross, the difficulties, the lack of success, the fear of standing alone. Tradition has never promised us a rose garden. To embrace the cross today needs to grow into existence. The cross will turn green cloth. We survived across. We grow and suffering. We become the tree of life." Dorothee Sölle, Theology for Skeptics (Minneapolis: Fortress Press, 1995), 104.
[10] Audio Adrenaline, "Big House," Don't Censor Me (Franklin, TN: Forerfront, 1993).